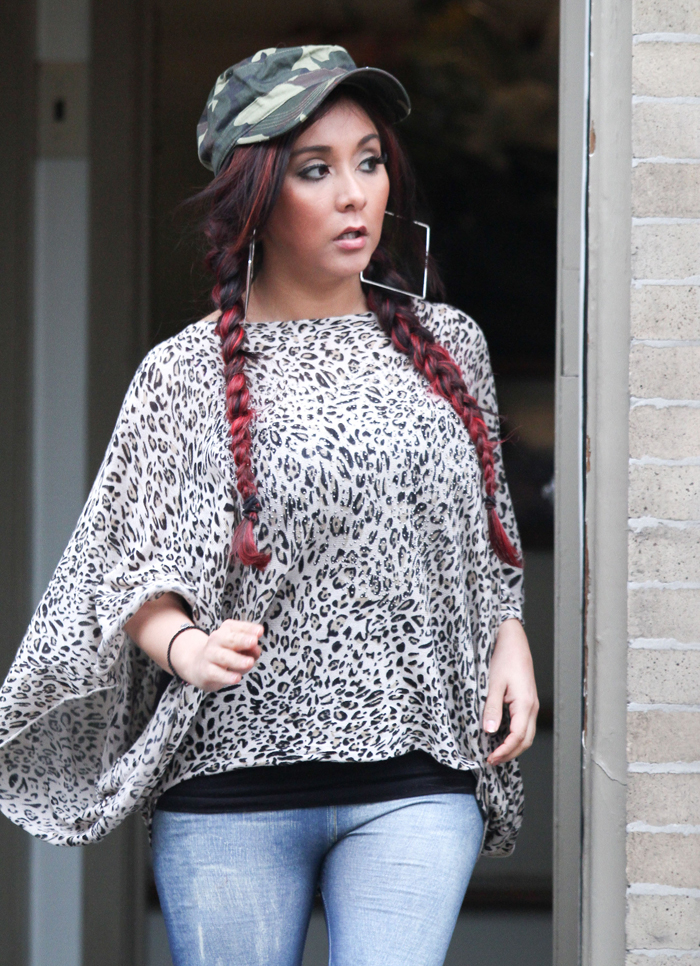 Here are some photos of Nicole "Snooki" Polizzi moving more
questionably-decorated riff raff
into the revamped Jersey City firehouse that she and Jenni "J-Woww" Farley are residing within during the filming of their nonsensically titled show, "Snooki and J-Woww vs.
The World
." As
you can
see, Nicole might be strategically dressing in a poufy (but still leopard-printed) shirt to disguise the orange-babied pregnancy that's been
denied
but then
all but confirmed
because
Snickers was trying to hold out for a rumored Us Weekly cover. Now People is running with the story with added details that Snooki is not only three months preggers but is also
now offically engaged
to boyfriend Jionni LaValle. Snooki has yet to comment on this new story, but if it's in People, it's as good as true.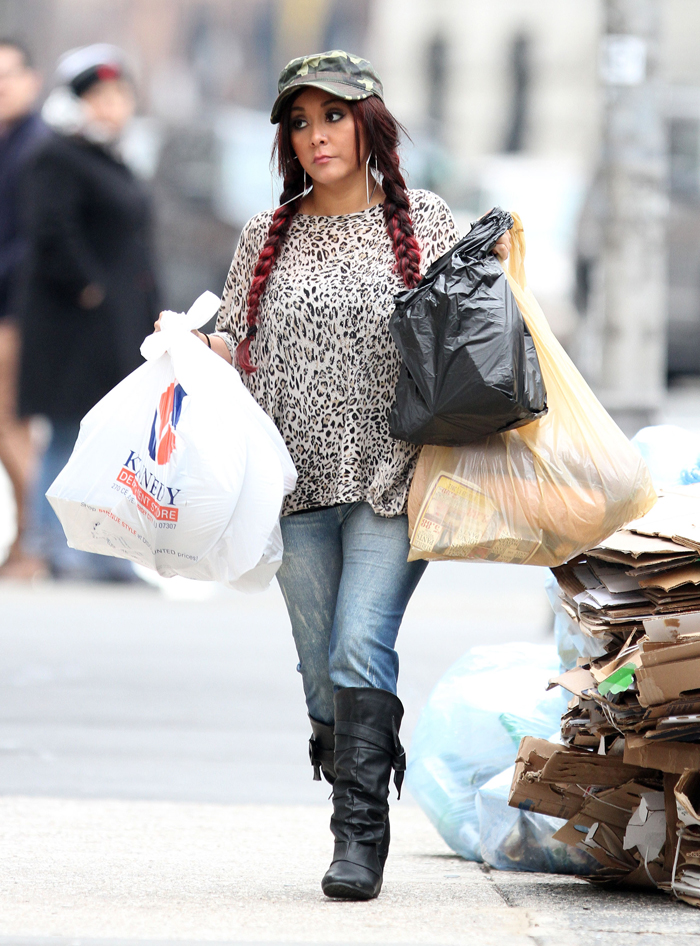 Unfortunately, there a very hateful twist on this story as well. I mean, we all love poking fun at Snooki for many things including a dreadful sense of style and a propensity to drink herself into mass oblivion. She's been especially drunk during the filming of "Jersey Shore" Season 5 too, but's a bit too much when her ex-juicehead,
Emilion
Masella, expresses much hope to TMZ that Snooki will miscarry. Someone seems quite irritated that they were written out of the storyline in Season 3, right?
Snooki's ex-boyfriend Emilio Masella doesn't think

the world is

ready for Snooki spawn … including Snooki herself — telling TMZ, "I hope for her sake … not to be rude or anything … but I hope she has a miscarriage."
Emilio tells us he does believe Snooki will eventually be a good mother — but insists … there's no way in fist-pumping hell she's ready for it now.
According to Emilio, Snooki has always been flippant about having kids … and never really grasped the gravity of being pregnant — "When I was with her, she said she wanted twins. She would always say 'Let's have twins.'"
Emilio says, "I would def recommend her to

get a paternity test

to see who the father is because I'm sure there are other subjects" — adding, "Vinny could easily be the father."
As for how Snooki and BF Jionni's relationship will pan out on her new spin-off show — Emilio thinks the two will get married … but Snook will "pull a Kim Kardashian."
Emilio says, Snooks is "going to have the baby and break up with him right after."