Following her sister's flour bombing last week at the hands of an irritating PETA activist, Khloe Kardashian announced to the world yesterday that she was
through with the company
for whom
she posed naked
in 2008 (below).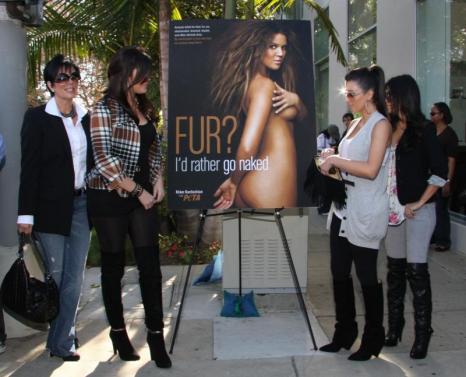 In response, PETA has issued a statement that basically say: we understand. But your sister still sucks!
"We appreciate that Khloé will remain on the animals' side by not wearing fur - that's what counts," a
rep for PETA tells
E! News. "If one of our volunteers is responsible, it doesn't alter the fact that no animal deserves to be electrocuted, shot or poisoned for a bit of fur clothing.
Khloé is just defending her sister, and we know she has a good heart, so we wish her well. We just wish she also had more influence on her sister."
Sigh. Talk about a battle where this is no winner. Whose side do you take in the PETA versus Kim Kardashian feud?